At Maungatapu School, what we value is reflected in our CREST model. These are communication, respect and responsibility, education and endeavour, self-esteem, teamwork.
CREST
The concept of Stepping up to the CREST to be an Effective Citizen emerged through a collaborative process in 2008 and has continued to evolve over the past number of years. The CREST image was rebranded in 2015 to make it more meaningful to our community.
The CREST is our vision and learner map, underpinning all that we do at Maungatapu School. It aligns with the NZC's Key Competencies and has them embedded implicitly in the CREST model.
We have infused the concepts and notions in the CREST model into our professional learning, our assemblies, classroom and school culture.
The values reflected in our CREST are also reinforced in the Cool Bananas programme.
The CREST Model is not to be 'set in stone", we encourage teachers to support and develop it further as our community of learners evolves and develops.
---
Step Up to the CREST
Ka piki ki te taumata pumanawa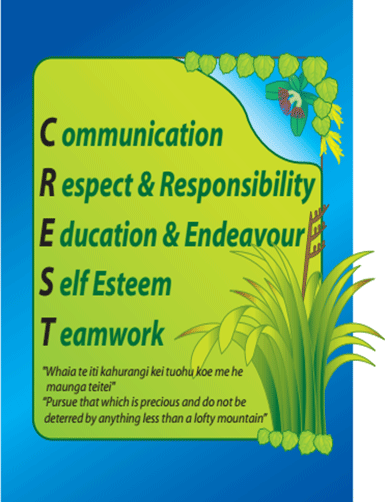 Communicate:
Speak, listen, and ask questions effectively
Respect and
Be courteous and positive towards others
Responsibility:
Take responsibility for all that you do
Accept responsibility – try something new
Education and
Have a positive attitude towards learning
Endeavour:
Set, work towards and achieve your goals
Self Esteem:
Be motivated
Get involved in school activities
Be resilient
Teamwork:
Co-operate, work well with others
Play fairly and show sportsmanship
Share different points of view and negotiate ideas