Ko Mauao te Maunga – Mauao is the Mountain
Ko Takitimu Ko Mataatua nga Waka – Takitimu, Mataatua are our ancestral Canoes
Ko Tauranga te Moana – Tauranga Moana is our sea
Ko Ngati Ranginui, Ko Ngai Te Rangi, Ko Ngati Pukenga nga Iwi – Ngati Ranginui, Ngai Te Rangi, Ngati Pukenga are our Iwi
Ngati Ranginui
Ngati Ranginui are the descendants of ancestors who arrived on the Takitimu Waka, lived and settled in Tauranga in the Bay of Plenty hundreds of years ago. Their ancestor Tamatea Arikinui conducted the rituals and ceremonies of the arrival at Mauao. Over many generations, these ancestors and their descendants established villages, fortifications, burial grounds, fishing areas and forest places. These lands and waters have been confiscated following the land wars 1865. Today the tribal groups only retain a fraction of their once vast estates. They express the relationship with their ancestral lands by maintaining marae, retaining remnant reserves and keeping the identity and customary rights and practices alive (expressed from website Ngati Ranginui).
Ngai Te Rangi
Ngai Te Rangi is a Mataatua tribe. They have a rich history which began from our journeys from the East Coast. After many battles, Ngai Te Rangi resided in Whangara, then Opotiki, and through intermarriage and many grueling battles, finally settled where we are today in Tauranga Moana. Their historical journey is known as Te Heke o Rangihouhiri. They were originally called Ngati Rangihouhiri but after the ancestor Te Rangihouhiri died in one of the country's most bloodiest battles – Poporohuamea, his brother Tamapahore, led and renamed us Ngai Te Rangi. With the arrival of Europeans to this region, it was the Battle of Gate Pa which changed our city forever. The leaders of that time Rawiri Puhirake and Henare Taratoa lost their lives fighting for their people, and survival. Ngai Te Rangi has survived and flourished. Ngai Te Rangi have 11 operative Marae and 11 affiliated Hapu located as far north as Katikati through to Te Tumu in the east and on the islands of Matakana, Tuhua, Motiti and Rangiwaea and is the largest of the three Iwi that have settled in the Tauranga Moana (expressed from website Ngai Te Rangi).
Ngati He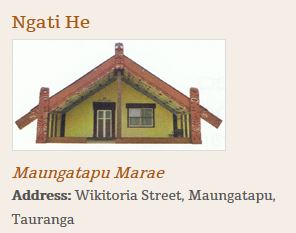 Ko Wairakewa te Wharenui
Ko Te Ao Takawhaaki te Wharekai
Ko Opopoti te Marae
Ko Ngāti Hē te Hapū
Waiho ma nga papaka o Rangataua koe e mihi.
He paruparu te kai he taniwha te tangata –
Tihei mauri ora!
Ngai Te Ahi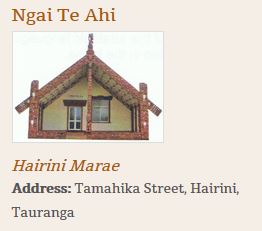 Ko Mauao te Maunga
Ko Awanui te Moana
Ko Takitimu te Waka
Ko Tamatea Arikinui te Tangata
Ko Ngāti Ranginui te Iwi
Ko Ngāi Te Ahi te Hapū
Ko Hairini te Marae
Ko Tamahika te Tangata
"Mai ngā ngārehu o Whakapaukarakia, kei te kā tonu Te Ahi"
"From the embers of Whakapaukarakia the fire burns on"
The original name of the Hairini area was Ohau. For generations, Ngāi Te Ahi has occupied the lands of Hairini, Ohauiti, Kaitemako, Poike, Waoku and parts of the Waimapu and Taumata. They share these areas with neighbouring whanau and hapu of Ngāti Ruahine, Ngāi Tamarāwaho and Ngāti He.
For more information about local Iwi, Hapu and Marae, visit this website: Tauranga Moana Maori Trust Board.