Te Hītori O Te Kura O Maungatapu
Maungatapu School was first opened as a Native School on July 4 1881 with a roll of 26. The school was not located in its present position. It was located at the north end of the Maungatapu Peninsula in Te Hono Street where the current Anglican Church stands. The Māori name of this area is Te Maire. Ngāti Hē gifted two acres of land to the Education Department so that a schoolhouse and teacher's residence could be built; this started a long association between local Māori and education in Maungatapu. Between 1881 and 1913 the school had a fluctuating roll and was at one stage closed due to "tribal migrations" in 1895. In 1908 the people of Ngāti Hē petitioned to the Education Department for another Native School and gifted three acres for the school house to be placed on. This is the current site of Maungatapu School. Maungatapu School was a Native School and catered for Māori children of the Maungatapu area. In 1922 the school had 65 pupils, of which 25 were Pākehā. In 1965 Ngāti Hē gifted an additional two acres of land for a playground to accommodate for an increasing number of children. In February 1962 Maungatapu Māori School was disestablished and a new public school under the control of the South Auckland Education Board was established.
In 1982, Te Kōhanga Reo o Hairini was established and a year later at Te Rangatahi, Opōpoti (Maungatapu) Marae. Local Māori were concerned that there was nowhere for their children to continue to learn their language at school. In 1987 local Māori visited the school to discuss provision for children in the Māori language and culture. In the same year a bilingual class was opened to focus on promotion of Te Reo and Māori culture. Since this time, Te Pūwhāriki has grown to three full immersion classes (including a collaborative teaching space) catering from New Entrants to Year 6 and a new Bi-lingual class for Year 4 to Year 6.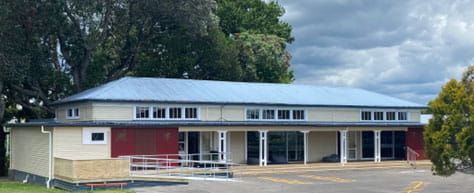 Tikanga Whakauru
Enrolment Procedure
Te Kura o Maungatapu is a dual medium school that provides quality education in both mainstream and Rūmaki full immersion Te Reo Māori. We currently have three full immersion classes at Level 1 immersion (81-100% of the program is delivered in Te Reo Māori) and one bi-lingual class for Years 4-6 at Level 3 immersion (31-50% of the program is delivered in Te Reo Māori).
Te Pūwhāriki is based on the principles of Te Tuakiritanga o Te Tangata (Identity), Manawhenua and Kaupapa Māori; which recognises, values and validates Te Reo me ōna Tikanga. Te Pūwhāriki teaching and learning is guided by our Te Pūwhāriki Graduate Profile, our localised curriculum and supported by Te Marautanga o Aotearoa (TMOA). There is a strong focus on the two Hapū of the area; Ngāi Te Ahi and Ngāti Hē and the wider Iwi of Tauranga Moana. We use a holistic approach to teaching and learning in a whānau based learning environment.
Enrolment Guidelines
Priority will be given to tamariki with whakapapa links to Ngāi Te Ahi/Ngāti Hē, and/or live within the boundary of Maungatapu school zone.
Have had at least 3 years immersion at any Kohanga Reo establishment, and/or live within the boundary of Maungatapu school zone.
Enrolling directly from another Rumaki Kura and live in the boundary of the Maungatapu school zone.
From mainstream following a Hui with the Pouako and at the discretion of the Pouako/ and Tumuaki, on a trial basis of 3 weeks.
Acceptance Guidelines
Whānau commitment and dedication to this kaupapa, is paramount to being a part of Te Pūwhāriki and the following aspects will be considered before accepting an enrolment:
Level of competency in Te Reo Māori
Whānau commitment to Te Reo Māori
Commitment to School Attendance
Assisting tamariki at home with their learning
Contributing to fundraising
Supervision on school trips
Prior to enrolling, the whanau and the child will hui with one of the Pou of Te Pūwhāriki. If enrolment is accepted, an enrolment form will be filled out and returned to the school office.
Information for Parents
Children should begin transitioning from Te Kohanga Reo four weeks prior to starting school. They must be accompanied by an adult (parent, caregiver, or kaiawhina) for the duration of the transition. Transition times are 9am – 10.20am, Friday or upon arrangement with the Pouako.
Pōhiri for new students are held in the Hall or out front of Te Pūwhāriki at 9.30am on the first day of each term. For tamariki entering our Kura during the term, please ensure that you have communicated the date with the Pouako, the Pouarataki and the Office staff. Please note that ALL necessary paperwork must be returned before starting and Restriction Levels (Traffic Light system 2021) will apply.
Most of our tamariki are learning Te Reo Māori as their second language. However, we aim for the highest level of Reo Māori immersion for Te Pūwhāriki. Their progress is enhanced if they have support at home from someone who is able to help them with Te Reo Māori. This is extremely important and a key consideration for enrolment into Te Pūwhāriki. Tangihanga is also a key component of our Māori values. Therefore all tamariki or tuākana may be asked to attend tangihanga where possible from to time to time, at the discretion of the Pouarataki. However, for the "Nehu day" (the day of the burial) only tuākana will attend. Blanket permission slips are included in this pack to allow for our Kura to attend all relevant kaupapa, such as tangihanga and wānanga within our local proximity.
We appreciate and encourage parents/guardians to actively support fundraising, noho marae, education outside the classroom, kapahaka and any other trips and activities at our Kura.
Information regarding school uniforms and stationery can be found in the enrolment pack, school website or from the school office.
Ngā manaakitanga e te Iwi
He kōrero āpitihanga
Explanation of the Tohu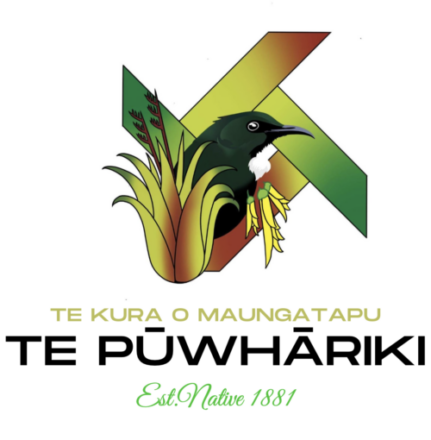 (Ratified by the Board of Trustees 8.12.2014)
Harakeke and Raranga
The Raranga backdrop is a simplistic, geometric impression of moving forward or moving ahead.
Light yellow greens are not only warm colours but are also vibrant, I feel these elements together are nurturing and a new beginning for our Tamariki.
The subtle red gradients symbolise the root of the Harakeke, this also could represent the foundation or beginning of growth as our Tamariki begin their journey.
The red can also represent the Papaka as the tip of the vertical Raranga symbolises the ridged shell of this mud crab.
The dark greens we all know is the mature colour of the Flax. This colour is bordering the edges or the tips of the Flaxbush and the Raranga and ultimately reaches out to the main text (Te Pūwhāriki) as our Tamariki learning experience matures and continues.
As the flaxbush anchors itself to the base of the Raranga it also adds itself to the Tui which also feed of the on the stem berries of the flaxbush.
The Raranga backdrop not only represents the interweaving, of our sense of belonging but also signifies the beginning of knowledge and understanding our Tamariki vibrant minds will be enriched.
Tūī
This prominent element is centered and gazes forward with pride as it looks upon the Pūwhāriki unit unifying confidence and knowledge.
The colours were simple as the Tui contrasts well with the lighter surrounding colours by strengthening and balancing the entire design.
Puakōwhai
This beautiful flower yellow at its best is also symbolic to the region as this symbolises its blossoming nature with skills and knowledge our Tamariki can apply to everyday life.
'Te Pūwhāriki, Ki Te ao Tūroa'
Te Pūwhāriki name itself depicts the stands of flax bushes or Pa Harakeke as a vibrant living community shared with many of nature's gifts such as the tui and kowhai. It is also the original name of the land on which the current school stands. The communal scenario acknowledges the many whanau who resided in and around the Maungatapu area.
The Ao Tūroa or natural environment allows us to incorporate those elements in nature that we identify and familiarise ourselves with.
The whale of tohorā and the papaka or crab are recounted in local tribal pūrakau (legends) and pepeha (tribal sayings) of those many hapu and iwi of the Tahuna o Rangataua (Rangataua Estuary).
These natural elements are symbols which have also been captured in the front outside whakaairo (carvings) at the Maungatapu Schools' own Whare Wānanga (learning house) which is named Rangiātea.
This whare itself is named in remembrance of an ancient Pacific (Te Moana nui a kiwa) homeland in honour of our tipuna who settled this area.