Maungatapu School is a dual-medium school, which uses both of New Zealand's curriculum documents to deliver our programme; New Zealand Curriculum in our Auraki classes and Te Marautanga Aotearoa in our Rumaki classes.
Below is a model of how this operates in our school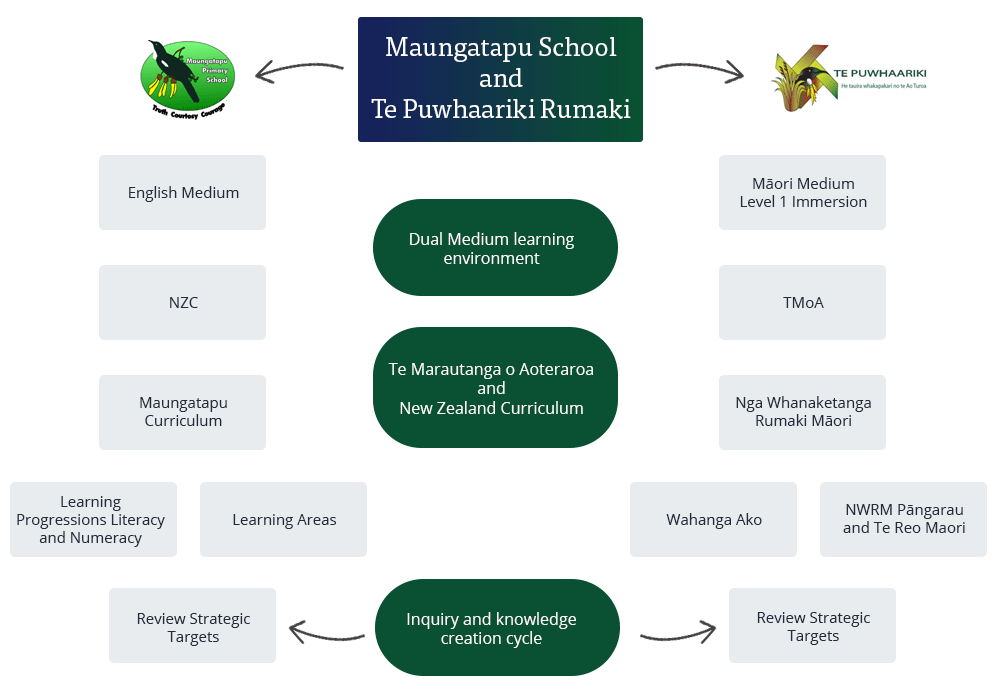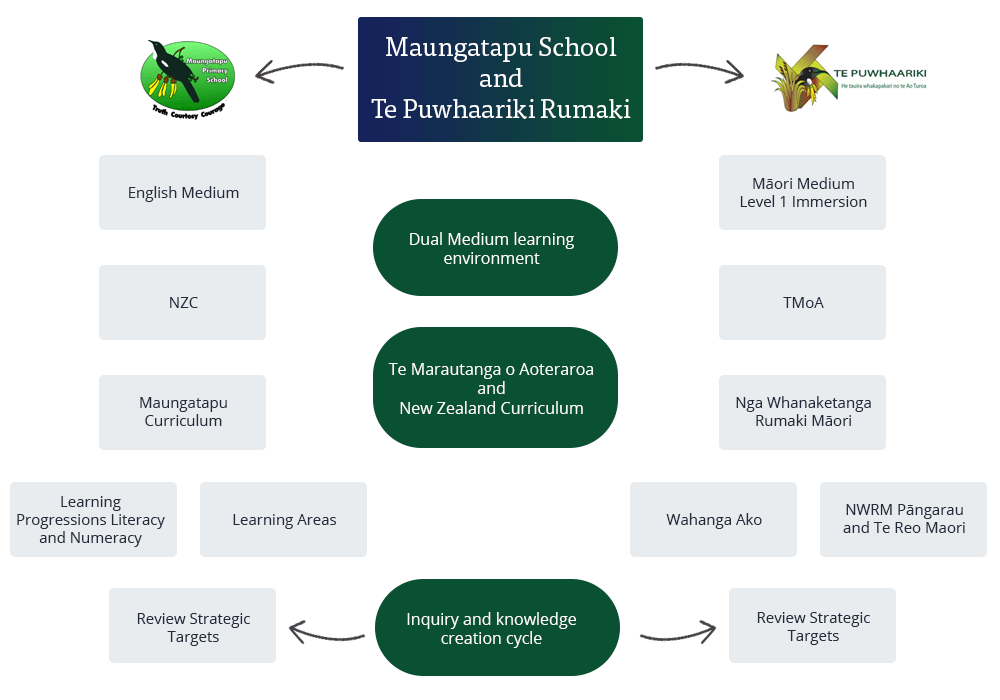 Curriculum Principles at Maungatapu School
These principles put students at the centre of teaching and learning, asserting that they should experience a curriculum that engages and challenges them, is forward-looking and inclusive, and affirms New Zealand's unique identity.
The New Zealand Curriculum, p.9
It is our belief that these principles are interwoven with each other and are also interwoven with everything we do at Maungatapu School. We believe that some principles have stronger links with others.
Cultural Diversity/Treaty of Waitangi
The curriculum is planned and resourced with a focus on the indigeneity and distinctiveness of Māori and on the cultural diversity of all learners in the school.
Learning to Learn/Coherence
For tamariki to grow as lifelong learners they need to learn how to learn, unlearn and relearn. They will make links with learning experiences, and within and between ideas.
Community Engagement
By involving whānau, our community and beyond in Maungatapu School we are demonstrating how we value who our learners are, where they are from and what our community offers to support the education of our tamariki
Future Focus
To enable us to be future focussed we need to know who we are and where we come from.  This knowledge will help us grow an awareness of what issues are affecting our community, New Zealand and the world.
High Expectations/Inclusion
Every child has an equal opportunity to learn regardless of personal circumstances, gender, ethnicity, religion or ability. Every child is valued and we believe they are all capable of reaching personal excellence. All children are encouraged to give their best. At Maungatapu School, Every Body Counts.
Maungatapu School Integrated Curriculum
At Maungatapu School it is our goal to deliver an integrated, concept based curriculum which is rich, diverse and relevant to the needs of our students and community. We believe that a concept based curriculum enables students to transfer their understandings across learning areas and contexts, and make connections to their own experiences, and the wider world both now and in the future. Having a conceptual understanding provides students with a framework through which to develop their own way of structuring their understandings. Learning will be enhanced through opportunities to explore and revisit concepts in-depth, through many perspectives and in a number of contexts. Eight main concepts underpin our Integrated Learning at Maungatapu School.
Diversity
Our Environment
Our history
Safety and Wellbeing
Artistic expression
Scientific exploration
Money Matters
Leadership
Maungatapu School and community believe the concept of belonging over-arches all concepts and therefore is being reflected in all of the eight concepts.
Our concepts are:
Broad, abstract notions
Relevant to a range of contexts, interests, environment, culture and experiences.
Represented by one or two words
Facilitates critical thinking rather than the memorization of fact
Impacts life now and in the future
These concepts also encourage students to make connections to the Maungatapu School CREST and the Key Competencies stated in the New Zealand Curriculum. There are natural links between these concepts, so while syndicates may have a major concept focus in a term, they may choose to integrate one or more of the other concepts into their Integrated Units of Learning so as to meet the needs of their students. These concepts may also be revisited during the year. Generally, classes will cover four concepts a year.
Enduring Understandings (Big Ideas) fall out of the concepts.
What do we want the student to know, understand and articulate by the end of the term? Starting with the end in mind
Relevant and lasting across life
Opportunity for in-depth inquiry and debate
Applicable to environment, culture and experiences
Leads to the development of key skills and knowledge
Facilitates integration
Essential Questions are then generated.
The essence of what the students should examine and know
Facilitate Inquiry and Problem Based learning
Maintain focus throughout a study
Maintain a conceptual focus
At Maungatapu School English and Mathematics & Statistics are given priority in teaching and learning. We also acknowledge that some aspects of Science, The Arts and Health and Physical Education may need to be taught in isolation to these concepts. However, where there are natural links, we will endeavour to integrate the learning for the students in our planning and teaching.
Inquiry Model
At Maungatapu School we recognise that there are multiple Inquiry models in existence, some of which better suit some concepts better than others. In recognition of this, we give teachers the flexibility to choose a model they believe best fit their learners and the concepts being investigated at the time.